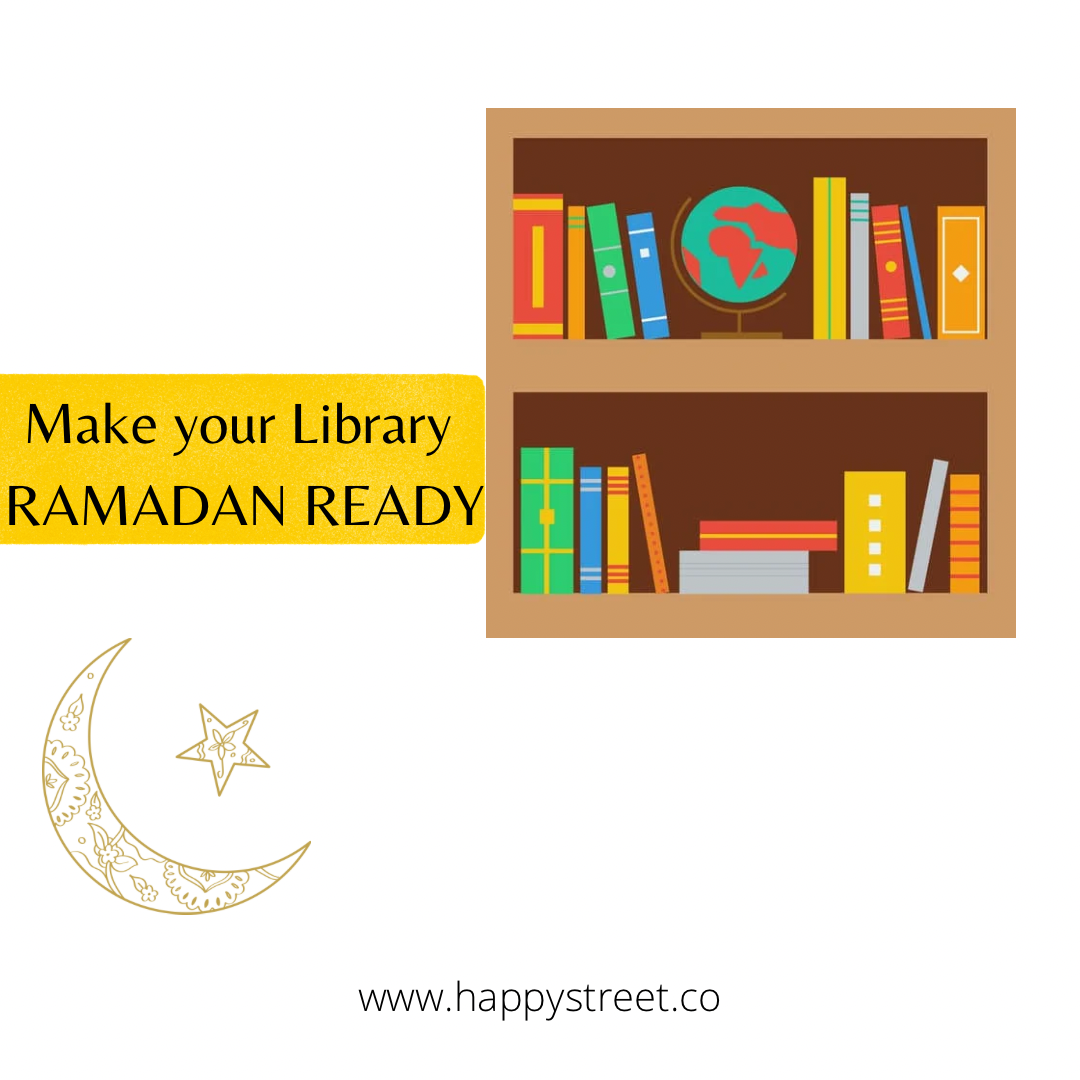 Get your library Ramadan Ready!!
This past week as Ramadan grew closer, one thought wouldn't leave my mind. How to make Ramadan more visible for our children not just in our own homes but in frequently visited places.
We frequent the library a lot and always admire the various displays and decorations put out for a variety of festivals, celebrations and occasions. But I found that they were not preparing or have anything planned for Ramadan. 


I guess it does need some personal and community push to get libraries on board to create awareness. I approached the library with a mindset that I am not there just to suggest they do something. I am there to make it happen myself. 
Although our local public library put out Ramadan themed books they were mixed with Passover books and on the far end of the library with low foot traffic and barely visible. I needed something MORE.
 BEFORE
Below I have outlined few steps to take to get your library Ramadan Ready and also go further than I did. 
Number 1 and the most important point: Go with an open mind and ready to do the work yourself! This is our Ramadan, our holy month and to spread awareness and make it visible for our children, we have to take it a step further. Go with the mindset that its not about us vs them but a general vision of inclusivity of all religions and celebrations!
Number 2: Call or visit and find out what the rules of the display are. I found that the bigger display case right at the entrance of the library had to be booked in advance. It was booked all the ay till the end of this year. I booked that for next year In Sha Allah but just knowing that helps plan and organize. 
Also some libraries allow for a standing display with books and decor and some don't. Ours didn't create a display in the case because most of the books they had were already checked out ( Alhamdullila) so they didn't have any to put and lock in a case for a whole month! 
Number 3: BYOB Bring Your Own Books: As mentioned in the previous point, since the library didn't have any books to spare to lock in a display  case for an entire month, I chose to bring my own. Along with decor. I didn't mind them being in there for the greater good. 
Number 4: Approach in person! Be kind but be persuasive with your request. If they say no to one thing ask for a work around. When I went, I asked to speak with the Youth Director ( They handle the youth services and their info is easily available on the library website) She said books are alreayd out. I asked for more. She said we dont have books to display. I said I will bring my own. She said email. I did that right from the parking lot and followed with a phone call after about 2 hours. By the end of the day I had permission and access to create the Ramadan Display at my local Library!
Number 5: Be very specific on what you will include in your display so there are no surprises. 
And that's it! Gather friends and family and create your own Ramadan display in your local public library! 
 AFTER
Here is a list of books I included in my display 
Crescent Moon and Pointed Minarets
This is a great one I found on ISB Atlanta website 
Decor I Included: You can include all sorts of Islamic decoration to make your display look pretty. Here is what I included:
What Else Can you Include/ Do?
There are so many amazing Ramadan books you can include. Choose from any of these as well.
Under the Ramadan Moon
Zahra's Blessings
My First Book of Ramadan
Curious George Its Ramadan
Ti's the Night Before Eid 
Rashad's Ramadan and Eid Al Fitr
My First Ramadan 
Hannah and the Ramadan Gift 
Khadijah and Cat
Hasan and Anisa Celebrate Ramadan
All of these are available in store 

Lastly, Do not settle with just the display. Most libraries hosts make and take craft activity and book reading activities. Request for those!!
In Sha Allah you found these steps helpful and can create one in your neighborhood library!